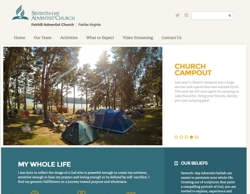 Design
netAdventist makes it easy to coordinate with the Adventist visual identity used for www.adventist.org. To learn how to make use of this visual identity, visit the Adventist Corporate Theme documentation.
Other Themes
Each site can choose from a variety of themes. You can also download and customize an existing theme or have a designer create one for you.
netAdventist web sites are expected to follow the Guidelines for Seventh-day Adventist Church Web Sites. 
netAdventist Theme Design Services
Other designers are welcome. If you are a designer who has created themes for netAdventist, ask John Beckett beckettj(at)gc.adventist.org to be included on this page.



Adventist Corporate Theme